Remember how we had to wait until just last weekend to get some Fall in our lives? Well, apparently "Fall" lasts for a whopping 1 week around here because we are past fall and into winter guys. My body must have adjusted to the 110 degree heat because it's 53 degrees today and I feel like I'm living in the Arctic!
No, really, it's not that bad, but the temperature did drop quite a bit though and it is feeling quite chilly. It even snowed Saturday! What?! For about 5 minutes it flurried and then the sunshine came back and all was right with the world ;)
So what does one do when faced with cold and chilly weather? Slap on your warmest pajamas, snuggle up with all of your animals in your bed and vow to drink hot chocolate until the spring? Close... we made a giant pot of soup.... and all of the above.
This soup is one of our favorites! If not our absolute favorite. Chad had a second bowl Sunday night at 1am. Yup, he ventured out of the warm bed all the way down the stairs to get a second bowl, that's how good this is. Then we had it as part of our dinner last night as well. Then we snuggled up in our bed with hot chocolates and hot ciders and didn't leave until our alarms went off this morning, hence this Meatless Monday on a Tuesday.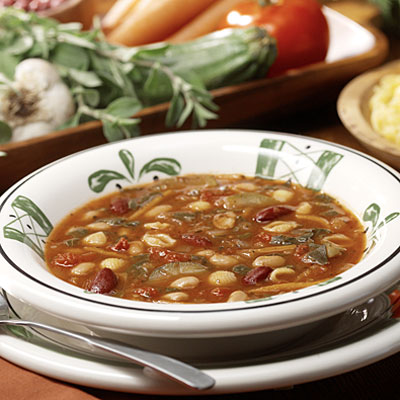 Snatched from Olive Garden, this recipe tastes very similar/exactly like theirs!
Minestrone Soup
The best part about this recipe is that it is a great way to use up anything on the verge of "going" in your fridge. It's also very forgiving. Don't like green beans? Leave them out and throw something else in! Really like carrots? Throw in 2 or 3! Go nuts and make it your own!
Ingredients:
1/2 cup minced white onions (about 1 small onion)

1/4 cup chopped zucchini

1/4 cup green beans

1/4 cup minced celery (about 1/2 stalk)

2 teaspoons minced garlic (about 2 cloves)

4 cups vegetable broth

1 (15 ounce)can red kidney beans , drained

1 (15 ounce)can small white beans or great northern beans , drained

1 (14 ounce) can diced tomatoes

1/2 cup carrots

1 teaspoons Italian Seasoning

1 teaspoons salt

1/2 teaspoon ground black pepper

1 1/2 cups hot water

3 cups fresh baby spinach, chopped

1/3 cup small shell pasta
Directions:



Heat Olive Oil over medium heat in a large soup pot.



Saute onion, celery, garlic, green beans, and zucchini in the oil for 5 minutes or until onions begin to turn translucent.

Add vegetable broth to pot, plus tomatoes, beans, carrot, hot water, and spices.

Bring soup to a boil, then reduce heat and allow to simmer for 20 minutes.

Add spinach leaves and pasta and cook for an additional 20 minutes or until desired consistency.