This past weekend we kicked it into overdrive and got a lot of things done.
Clean the
whole
house? check
Bath for the pup? check
Haircut for the pup? check
Go through paperwork accumulating on top of fridge? check
Clean appliances that are sitting and acculmulating dust? check
Laundry? check
Put Laundry away (always the part we suck at)? check
Pay Bills? check :(
As per our usual routine we watched movies, ate too many donuts, and stayed up waaaay too late. Monday mornings are not kind at our house.
This morning I got my last widom tooth pulled. True to my character I was freaking out. It's what I do and I do it well. After a little happy gas I was feeling much less nervous :) A few minutes later my tooth was gone! Check! Now I get to eat ice cream, pudding, and jello to my hearts content!
If you happen be able to eat solids let me recommend this little beauty for you...
OMG Tortilla Soup!!! Is there anyone who doesn't
like
love
tortilla soup? I had been hesitant to make any since our venture into vegetarianism, all the chickeny broth and shredded goodness seemed to really make up the bulk of it in my mind. Then I decided to give it a whirl. What's the worse that could happen? Throw it out and order pizza instead? Not the worst outcome ever.
I hopped onto one of my favorite recipe sites
OhSheGlows
, and found a recipe. I tweaked it to what I had and what we liked and OMG SO GOOD! It was spicy and delicious, even without the chicken ;) So if you're in the mood and are looking for another way to use up all the veggies that are quickly going bad in your fridge, give this a try. You won't be sorry.
Oh, before I forget, don't get lazy on me and skip out on making the crispy tortilla strips. They're bangin'. Seriously, so good. Like, eat all of them off the pan before they make it to your bowl of soup good.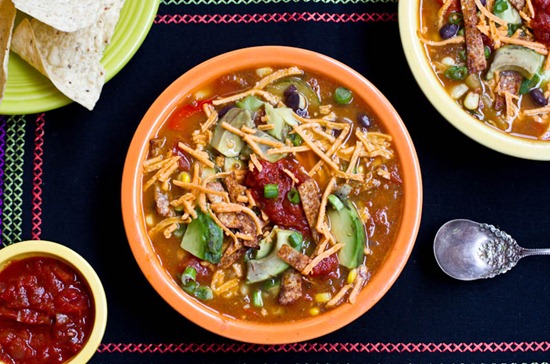 Vegetarian Tortilla Soup
Ingredients:
1 tbsp olive oil
1.5 cups chopped onion
2 garlic cloves, minced
2 bell peppers, chopped
1 zucchini, chopped
1/2 cup green onion, chopped
3 tbsp ground cumin
Two 28-oz can crushed tomatoes with chili peppers
3 cups vegetable broth
1.5-2 cups cooked black beans (or beans of choice)
salt & pepper & crushed red chili pepper, to taste
Fresh lime juice, to garnish on top
avocados
cheese
sour cream
Tortilla strips (FLOUR tortillas with chili powder, garlic powder, olive oil)
Directions:
1. In a large pot over medium to low heat, add the olive oil, onion, and garlic. Sauté for about 5 minutes. Preheat oven on medium broil setting.
2. Meanwhile, chop the peppers, zucchini and green onion. Add the veggies into the pot and sauté for another 5-10 minutes.
3. Add in the crushed tomatoes, cumin and broth. Stir well and season with salt and pepper. Simmer on low-medium heat for 25-30 minutes. Stir in drained and rinsed beans just before serving.
4. Meanwhile, make your tortilla strips. Use flour tortillas kids. I tried corn ones the first time since that's what I had and they were meh. The flour ones however, rocked my world. No lie. Slice flour tortillas into long skinny strips. Place in a small bowl and drizzle with olive oil to coat. Sprinkle on garlic powder and chili powder (to taste) and mix well with hands. Place on a lined baking sheet and broil for up to 3 minutes on medium.
Watch very carefully
. Let me repeat: VERY CAREFULLY. It too me two tries to not burn these little guys. When golden, remove from oven. Try not to eat all of them before you get to the actual soup.
5. After the soup simmers, ladle into bowls, and top with chopped avocado, fresh lime juice, cheese, green onion, sour cream and tortilla strips. Serve immediately.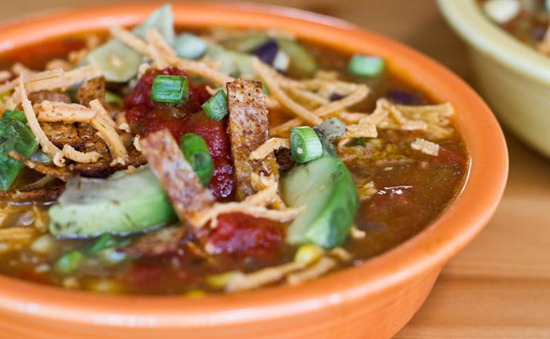 All photos from Oh She Glow. We tore into this soup as soon as it was done and devoured it before I could even think about taking pictures.